Refuge
Regular price
Sale price
$1,660.00
---
Description

Features

Specifications

Build Configurations
The Refuge is the dream boat for the old school packrafter, the person who spends their winters drawing lines on maps and their summers exploring up and down valleys and over the crests of mountains finding their own route instead of following an established one. At just 5.5lbs with a whitewater deck and cargo fly, the Refuge is the ultimate landscape traverse packraft.
Alaska packrafting in the 1980s and 1990s was an exercise in gear failure, hypothermia, and general suffering. The lightweight open vinyl and nylon inflatable boats available were simply not up to the task of the Alaska backcountry. But the experience of following your own path on a big landscape traverse was often worth the misery of paddling for hours in an ice water bathtub. Alpacka Raft was founded to remedy the gear failures and suffering on those original packraft trips. And we like to think that we've done a pretty good job over the years, innovating fabrics, hull shapes, spray decks, and the Cargo Fly internal storage system along the way. But as amazing as these innovations are, we still had a hole in our lineup for a packraft that would combine all of our best features into the lightest possible package for the ultimate landscape traverse packraft.
Meet the Refuge, weighing in at only 5.5lbs with a full whitewater deck and Cargo Fly. The Refuge utilizes the same hull design and lightweight fabrics as the Scout, which cuts nearly two pounds off the weight of a medium Classic with the same leg room. That weight savings can add days and miles to your range on big trips with a lot of hiking. Compared to the Classic, the Refuge is lighter and more packable but doesn't offer as much carrying capacity, durability, or stability for every-day use. Experienced whitewater paddlers should be able to paddle the occasional Class III rapid in the Refuge, but whitewater and eddylines will be more difficult for novice and intermediate paddlers. The Refuge is ideal for the experienced wilderness packrafter who can limit their pack weight to 50lbs for a 14-day trip.
Very small paddlers who find the small Classic and Expedition to have too much volume should consider building a Custom Lab Refuge with standard fabrics for a better fit. Contact our Custom Lab specialists for additional details.
Manufacturing: Made to Order in Mancos, Colorado
Shape: Classic Hull
Tube Diameter: 10-inch
Valve: 

Temper assist valve for inflation and deflation

Attachments:

4 Bow Grab Loops, 2 Stern Grab Loops, 2 Strap Plates, and 1 Seat Toggle

Seating:

Scout Seat and Inflatable Back Rest Included

Build Configurations:

Whitewater Deck (Includes include one-piece PEX coaming and ultralight spray skirt)

Cargo Fly:

Standard (

Internal Dry Bags sold separately

)

Materials:

Proprietary lightweight 210-denier high count nylon hull and 420-denier nylon floor (Made in USA). Additional fabric options are available through the Custom Lab.

Includes: Inflation Bag, Stuff Sack, and Basic Repair Kit
Recommended Gear: Aqua-Bound Whiskey , Werner Corryvreckan or Werner Pack-Tour paddles

, Astral V-8 PFD, Kokatat Swift Entry Drysuit

 AQUASEAL WARNING: Using the Aquaseal in the repair kit will expose you to toluene, a chemical known to the State of California to cause birth defects or other reproductive harm. For more information go to www.P65Warnings.ca.gov.
| | |
| --- | --- |
| Exterior Length | 86.25in | 219cm |
| Exterior Width | 34.25in | 87cm |
| Interior Length | 46.25in | 117cm |
| Interior Width | 14.25in | 36cm |
| Weight * | 5lb 5oz | 2.49kg |
|   |   |
| Packed Size** | 15x7in | 38x18cm |
| Max Capacity *** | 250lb | 113kg |
|   |   |
*Weight includes all components except inflation bag and repair kit.
**Packed size is a reference measurement based on folding each lengthwise edge of the boat to the center and rolling from the bow. There are many other methods of rolling and folding the boats that will result in a different packed size that may be more or less efficient for packing depending on the situation.
***Max Capacity is the maximum total weight (paddlers and cargo) that the boat can reasonably carry in flatwater under ideal conditions. Actual capacity for any given trip will vary widely based on the paddler's skill and water conditions. Please review our weight carrying capacity guide for further details.
Whitewater Deck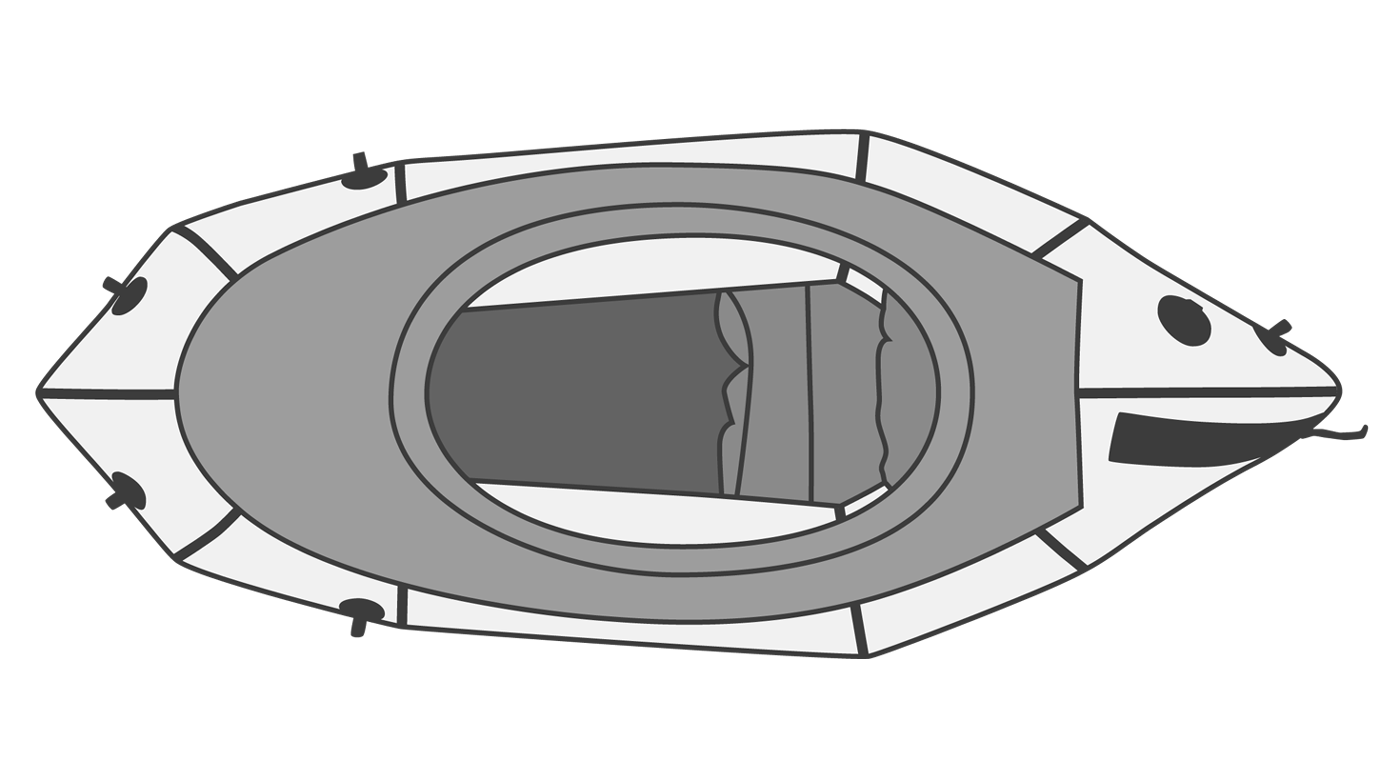 The Refuge comes standard with the Whitewater Deck, our driest and warmest configuration. It is ideal for all water types in cool climates and the highest performance option for whitewater. The Whitewater Deck features a large kayak style cockpit and includes a one-piece PEX coaming, and an ultralight secure fitting spray skirt. Contact us if you need a XL or larger spray skirt tunnel size.
Cargo Fly Zipper
A standard option on the Refuge, the Cargo Fly is the ultimate packraft gear storage solution. It features an airtight zipper installed in the stern of the boat to allow you to load your gear inside the tubes. The system provides drier and more secure gear storage and improved paddling performance due to a lower center of gravity. The Cargo Fly is perfect for expeditions, whitewater performance, and keeping your gear dry in any conditions.
Internal Dry Bags may be purchased separately and are designed to work with the Cargo Fly system. The bags clip in place along each side of the tubes with a side release buckle and allow for better organization and weight balance than placing the contents of your pack loose inside the Cargo Fly. They also act as additional balanced air chambers to make it easier to get to shore in the event of a puncture.